Data science maturity is a measurement of a brand's ability to use data science effectively to achieve business goals.
As contemporary business is highly data-driven, each brand must diligently seek to enhance advantages in using data to improve understanding of all parts of the business cycle, the customer, and measurable activities. While driven in part by technology, data science maturity is a measurement of the effective use across multiple domains impacting data science efficacy:
Organization (people, sponsorship, roles, strategy, culture)
Infrastructure (architecture, technology, platforms)
Data Management (relevant data, size, sources, complexity, methodologies)
Analytics (practices for transforming data into usable information, automation, integration)
Governance (disciplined control of data access and use)
Best Practices (best or most critical actions at each competency level)


The level of data science maturity across domains is a significant indicator on the ability of an organization to effectively use data within their environment to achieve performance goals. By assessing maturity levels, brands can identify specific gaps in different domains that affect a competitive advantage.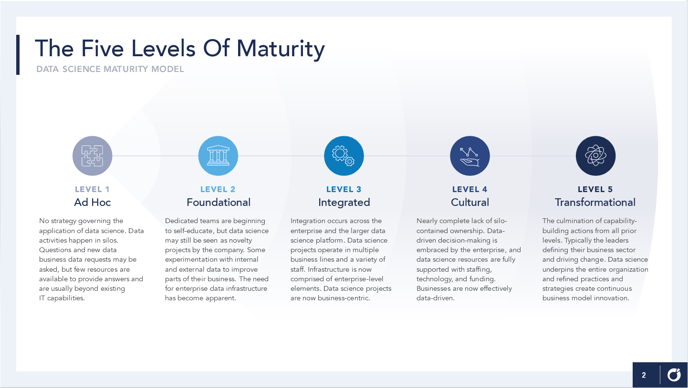 Learn more about data science maturity models here.