Define goals, identify connected metrics, collaborate with stakeholders, assess brand data and platforms, align business and platform, assess content assets, research platforms, and define a realistic rollout.
Since MA platforms can impact any part of the customer journey, brands must define specific goals for implementation early. In order to ensure the goal(s) are measurable, the brand should identify metrics that connect directly to the goal(s).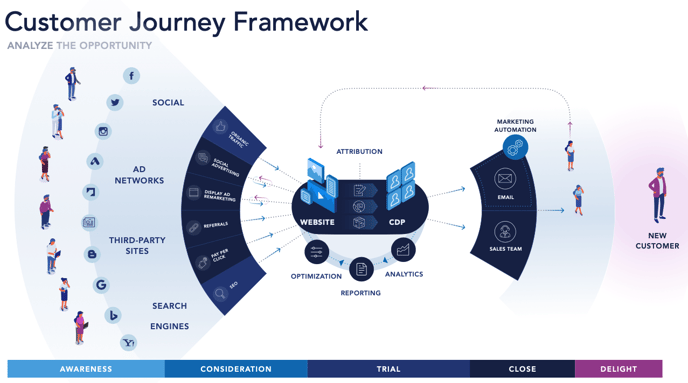 As the platform will impact many teams throughout the business, all stakeholders should be looped into the planning and decisioning process. The type of platform chosen is impacted by the current state of brand data and platforms (e.g., if a brand has no CRM, choosing a MA platform with CRM functions may be important). Similarly, some platforms work better with different types of business models (B2C, B2B, small B2C, etc.), and the brand should ensure the MA platform aligns with the business model. If the brand plans to ramp up content marketing and website marketing, a significant existing volume of content and web assets may be required as well.
Finally, detailed MA platform research and analysis can take place after the brand has defined goals and metrics, involved stakeholders, and assessed internal data and platform readiness. Teams responsible for decisioning should read current background articles on MA platforms, perform deep dives on narrowed reviews, and finally begin requesting demos from likely vendors. After the platform choice, the brand should set a realistic implementation timeline that accounts for all stakeholders and all the components that must be readied or prerequisite for each step of implementation.
Learn more about marketing automation here.